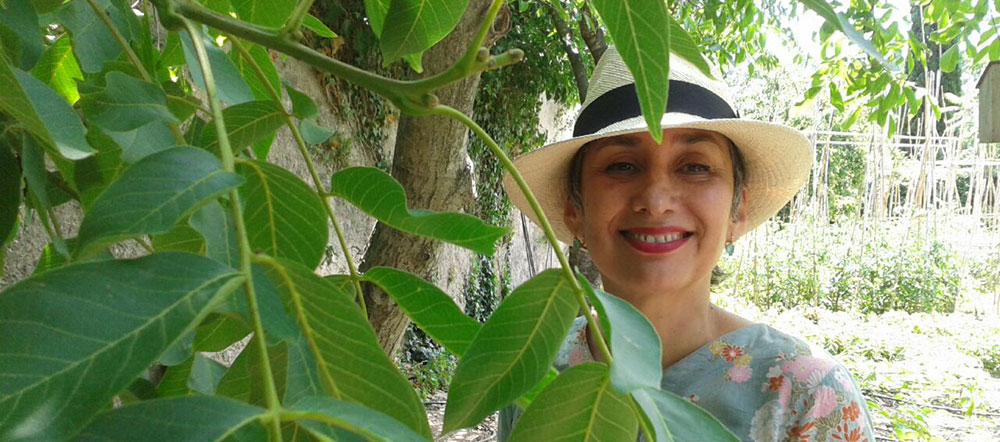 Photo María Paz Solar
Paula Leiva Granger
Santiago de Chile, 1 February 1961.
Barcelona resident since 1974.

Studies:
1979-1984 Escola Massana, Barcelona.
1979-1984 Bachelor of Fine Arts Escola Massana, Barcelona.
I studied painting, mural procedures and wall covering; engraving and serigraph with a qualification of "Excellent".
I was awarded a master class as an "Extra-ordinary Prize" at the end of my degree, by the painting department.
LA LLOTJA, School of Applied Arts, Barcelona.
Graduate Degree in Applied Arts. Speciality in Mural Painting .
Teaching experience:
2018 Homage to Pepita Teixidor.
Memory between Flowers, restoration of its monument. Watercolor workshop in family, Saturday, May 26, 2018.
Barcelona City Council.

2014-2018 Centre Cívic Parc Sandaru, Barcelona. Teacher of oil painting,pictorial representation techniques and watercolour.
2008-2018 Centre Centre Cívic Barceloneta, Barcelona. . Teacher of watercolour,drawing and oil painting.
2006-2018 Private lessons, watercolour, oil and drawing at my studio and private homes, Barcelona.
2002-2003 Acadèmia Adelina Gaeta, Barcelona. . Professor of painting,oil and watercolour, drawing and colour theory.
2001-2002 Acadèmia Cristina Blanch, Barcelona. Children's oil painting teacher.
1993 Canal 13 de Televisió, Universitat Catòlica de Xile, Santiago de Xile.
Trainer in an intensive course on colour and costuming with historical support for television wardrobe, psychology of colour.
1992 -1993 Generalitat de Catalunya, Professional training for fashion designers, Santa Coloma de Gramanet.
Teacher of colour, design and art history.
1984-1986 "La Caixa" " Social work. Cultural activities in diverse libraries of Catalonia.
Teacher of manual techniques such as: loom weaving macramé, drying flowers, etc.
1984-1998 EATM-ESDI, School of Art and Fashion Techniques.
Teacher of colour theory and practice, illustration and manual techniques as applied to fashion.
Since 1981 I have exhibited both small and large format work, watercolours as well as oils.
I have participated in individual and collective exhibitions in Spain, Chile, Germany and the United States.
Sale of work:
2018: Permanent work at Dual Art Gallery, Girona, Spain.
2014-2018: Sales through Setdart, Online Auction, in the section of Current Art, Barcelona. www.setdart.com
1995: Sale of pictorial work through Christie's, Santiago de Chile.
Exhibitions:
2018 Permanent work at Dual Art Gallery, Girona, Spain.
2018 Dona i temps, Barceloneta Civic Center, Barcelona.
2018 Retrats, Barceloneta Civic Center, Barcelona.
2016 Acció Dona, Centre Cívic Barceloneta, Barcelona.
2015
La Llavor dels Origens, Restaurant, Barcelona.
L'Illa D'art, L'Illa Diagonal, Barcelona.
Acció Dóna Cívic Center Barceloneta, Barcelona.​
2014 Acció Dona, Cívic Center Barceloneta, Barcelona.
2011 XIX Solidarity Art against AIDS, Centre Can Fabra Cultural Center, Barcelona.
2010
Sala Vinçon Hipermerc'art d'Art, Barcelona.
Sala Indecor, Lleida.
Galeria Montcada, Barcelona.
2009 Sala Indecor, Lleida.
2007-2011 Montcada Gallery, Barcelona.
2002-2006 Jordi Barnadas Gallery, Barcelona.
2004 L'Illa Diagonal, Barcelona.
1997-2002-2003 Casa Elizalde, Barcelona.
2002 Safia Gallery, Barcelona.
1995 Textile and Clothing Museum, , Cafè Tèxtil, Barcelona, Individual exhibition.
1997 Art Box Gallery, Barcelona.
1994 Art 21 Gallery, Barcelona.
1994 Estudi Metro Gallery, Barcelona.
1994 Drugstore Providència, 5th Supermarket of Contemporary Art, Santiago de Xile.
1992 Alphaflor Gallery, Freiburg, Alemanya, Individual exhibition.
1991 Arcs Hall, Barcelona.
1990-2010 Hipermerc'art d'art Sala Vinçon, Barcelona.
1987-1989 Supermarket of Contemporary Art, merican Prints Gallery, Barcelona.
1987-1991-1993 Piscolabis Gallery, Barcelona.
1986 Richard 's Gallery, Northeastern University of Boston. EEUU.
1986 Montserrat College of Art, Beverly, Ma. EEUU.
1984 Chilean Institute of Hispanic Culture, Santiago de Xile.
1984 Caja Madrid Culture Hall, Barcelona.
1981 Sala Busquets Hall, Escola Massanna, Barcelona.
Awards:
2001 Artist of the Year, 2000 Solidarity Award XIV Human Rights, Parliament of Catalonia, Barcelona.
1984 Extraordinary Prize for end of degree and scholarship perfection, Escola Massana.
Television:
2001 Collaboration and assessment for the programme "The route of Modernism", Art Channel, Argentina.
1999 Participation as a painter in the Channel 33 programme "Tell us when 2000 arrives", Barcelona.
Languages:
Spanish and Catalan, oral and written.
English, oral and written
French medium level.
Italian medium level.